Head Held High in the Ham & High newspaper on 14 July 2013.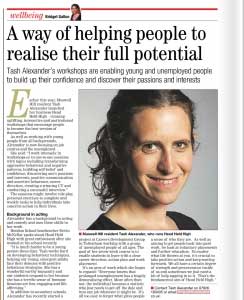 By Bridget Galton
A way of helping people to realise their full potential
Earlier this year, Muswell Hill resident Tash Alexander launched her business Head Held High – running uplifting, interactive and motivational workshops that encourage people to become the best version of themselves.
As well as working with people from all backgrounds, Tash is now focusing on job centres and the unemployed.
She said: "I work intensely in workshops or in one-to-one sessions with topics including transforming aggressive behaviour and negative patterns, building self-belief and confidence, discovering one's passions and interests, positive communication and assertive behaviour, career direction, creating a winning CV and conducting a successful interview." The sessions might involve role play, personal exercises to complete and weekly tasks to help individuals take concrete action in their lives.
Background in acting
Tash has a background in acting and comedy and uses these skills in her work.
Hendon School headteacher Kevin McKellar spoke about Head Held High with great enthusiasm after she worked at his school recently.
"It is much harder to be a young person these days. Tash works hard on developing behaviour techniques, helping our young, emergent adults face their demons with positive behaviour strategies. She has a wonderful earthy humanity and our students respond to her because she has a terrific sense of humour. Sessions are fun, engaging and life-affirming."
In addition to secondary schools, Tash has recently started a project at Careers Development Group in Tottenham working with a group of unemployed people of all ages. The goal of her seven-week course is to enable students to leave with a clear career direction, action plan and work placement.
It's an area of work which she hopes to expand: "Everyone knows that prolonged unemployment has a hugely demoralising effect. More often than not, the individual becomes a statistic who just needs to get off the dole and into any job whatever it might be. It's all too easy to forget what gives people a sense of who they are. As well as aiming to get people back into paid work, we look at voluntary placements and further education. No matter what life throws at you, it's crucial to take positive action and keep moving forwards. We all have a certain degree of strength and perseverance inside of us and sometimes we just need a bit of help tapping in to it. That's the fundamental aim of Head Held High."
---
Contact Tash Alexander on 07826 183405 or email tash@headheldhigh.co.uk